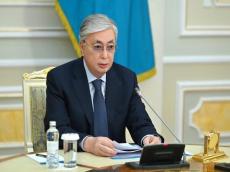 Kazakhstan needs to meet an annual threshold of sustainable economic growth equaling 4 percent, Kassym-Jomart Tokayev, the President of Kazakhstan, said.
The statement was made during the President's address to the lower house of the Parliament.
The head of state added that it is vital to ensure that Kazakhstan becomes a critical regional hub.
"We have completed a significant volume of work to ensure the de-monopolization and creation of a competitive economy. However, we must not stop there," Tokayev noted.
He added that the government needs to systematically address this issue, which will improve the maturity of Kazakh institutions. According to the president, this will make the domestic economy more resistant to external and internal shocks.
Earlier, President Tokayev said that Kazakhstan needs to decrease the economy by half in 2023, in addition to containing food production price growth.