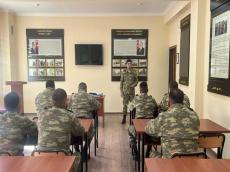 By Azernews
Azerbaijan Defense Ministry has organized a contest for the title of "The Best Group Leader for Classes on Socio-Political Training".
The competition was held under the slogan "Service to the Motherland, the people, the state is the meaning of our lives" in one of the military units of the Air Force and in accordance with the training plan for 2023, Azernews reports citing Azerbaijan Defense Ministry.
In order to improve the pedagogical skills of the group leaders of the socio-political training classes, to teach them the rules of the right conducting of ideological work with military personnel, the main attention was paid to maintaining the combat readiness in military teams at a high level, including instilling loyalty to the people, the state, the Supreme Commander-in-Chief, military oath, as well as promotion of advanced practice in the field of social and political training.
The winners of the first stage will take part in the contest to be held in the Azerbaijan Army.