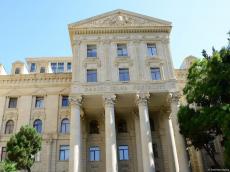 By Azernews
The Azerbaijani Foreign Ministry has strongly condemned the aggressive rhetoric of the Armenian leadership towards Azerbaijan which has been growing in recent days, says Spokesperson for the ministry Aykhan Hajizada.
He made the remark in response to a question from local media about the unfounded claims made against Azerbaijan by Armenian President Vahagn Khachaturian.
The spokesperson stressed that these kind of statements, ignoring the growing international efforts to advance the peace agenda between Azerbaijan and Armenia, serve to deliberately exacerbate the situation in the region.
"Both during the period of occupation and in the post-war period, practice has shown that the Armenian side usually, before committing military provocations, conducts such a massive disinformation campaign in order to shift responsibility to the Azerbaijani side," he said.
Besides, accusing Azerbaijan of ethnic cleansing and military rhetoric by Armenian leadership, which carried out ethnic cleansing and massacres of Azerbaijanis, occupied Azerbaijani territories, destroyed cities and villages, is an example of falsification.
"To establish peace in the region, the leadership of Armenia must abandon aggressive rhetoric, stop aggressive activities, infringement on the territorial integrity of Azerbaijan and interference in internal affairs," he added.