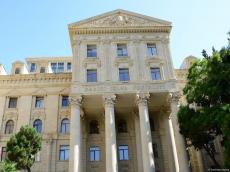 By Azernews
If Armenia is interested in regional peace, it should stop trying to interfere in Azerbaijan's affairs regarding contacts with the Armenian residents of the country's Karabakh region in order to reintegrate them, or prevent this, Azerbaijani Foreign Ministry Spokesman Ayxan Hajizada said, answering a question from local media regarding the unfounded claims made by Armenian Prime Minister Pashinyan on March 23, Azernews reports.
"We condemn and reject the completely unfounded accusations of Armenian Prime Minister Nikol Pashinyan against Azerbaijan, who stubbornly repeats the statement of the Armenian Foreign Ministry on March 18, despite our extended response.
"The aggressive rhetoric of the Armenian leadership, threatening the territorial integrity and sovereignty of Azerbaijan and ignoring the international obligations undertaken by Armenia, shows that this country is not interested in peace in the region. We recommend that Prime Minister Pashinyan take a lesson from history and guide Armenia, which has occupied Azerbaijani territories for 30 years, carried out ethnic cleansing against hundreds of thousands of Azerbaijanis, not interfere with the peace agenda that Azerbaijan has been promoting since 2020, and also abandon from aggressive activities such as encroachment on the territorial integrity and interference in the internal affairs of Azerbaijan.
"It is unacceptable that the return to their homeland of former internally displaced persons who became victims of the policy of ethnic cleansing of Armenia be regarded as a violation of the tripartite statement by Azerbaijan. In the same way, Armenia does not have the moral right to present itself as a `human rights defender' of the Armenian residents of Azerbaijan.
"It is absurd that Armenia, which has been destroying property belonging to Azerbaijanis both in Armenia and in the cities and villages it has kept under occupation for 30 years by illegally resettling Armenians in these territories, opposes the implementation by Azerbaijan of resettlement in its sovereign territories and historical lands. This statement also directly contradicts the Prague and Sochi agreements, to which Armenia constantly refers," he said.
It was also noted that Armenia, which forcibly expelled Azerbaijanis from their historical lands, does not digest the peaceful existence of representatives of various peoples in Azerbaijan while claiming that it is not a mono-ethnic state, and this is another example of Armenian falsification.
"If Armenia really intends to abandon its territorial claims against Azerbaijan, its revanchist policy, it must abandon such aggressive rhetoric. If the Armenian side is interested in peace in the region, it should stop trying to interfere in the affairs of Azerbaijan regarding contacts with the Armenian residents of the Karabakh region of the country in order to reintegrate them, to prevent this," the ministry's spokesperson said.