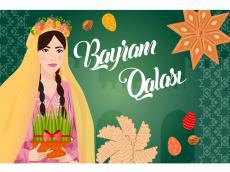 By Azernews 
The City of Winds will host a series of events, reflecting the historical traditions and culture of Azerbaijan.
The festive events will start on March 19 with an open-air concert on Gosha Gala Square to mark the Novruz holiday, Azernews reports.
Handicrafts fairs and master classes will be organized within Holiday Town Days. Samples of national cuisine and scenes from national films will also be presented at the events.
Holiday Town Days are planned to be held until March 26, the events will last from 1200 to 2200.
The first day of Novruz falls on the spring equinox on March 20-21 and the holiday celebrates the spring arrival and the start of a new year.
On September 30, 2009, Novruz was included in UNESCO's List of Intangible Cultural Heritage. On February 23, 2010, the UN declared March 21 the International Day of Novruz.