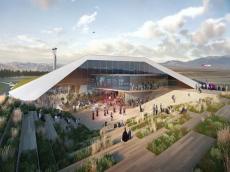 Irakli Karkashadze, the newly appointed Director of the United Airports of Georgia, on Wednesday announced that "large-scale" infrastructural works worth ?47 million ($17.87mln) were planned for the western Kutaisi International Airport, the state body announced.
"First of all, in 2023, we will complete the design of a new 3.5-kilometer runway at the Kutaisi International Airport, as a part of the long-term general plan for the development of the airport. In the future, it will be possible to receive and serve all types of passengers and cargo aircrafts through the new larger runway at the Airport of Kutaisi", Karkashadze said. The masterplan is "the most important and mandatory" document that "all airports must have in the world", he added.
Renovation of tracks and platforms, a new parking lot for 400 cars, and light signalling systems in compliance with international standards are among the planned projects for the Kutaisi Airport, the United Airports of Georgia said.