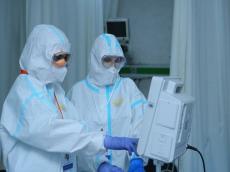 Azerbaijani Prime Minister Ali Asadov has extended the deadline for paying urgent bonuses for healthcare workers fighting the new COVID-19 strain.
According to the decree, healthcare staff will receive a COVID-related bonus until March 1, 2023.
The deadline has previously been set for January 1, 2023.
For almost three years now, the COVID-19 pandemic has spread all over the world. Despite a relative decrease in new infections and deaths worldwide, international experts believe that the pandemic is still a global issue. The main reason is that the virus is constantly mutating and changing, which means it differs from previous variants.
In order to evade infection, people should minimize contact, wear a mask in enclosed spaces and public transport, observe respiratory hygiene rules, regular ventilation of premises, as well as a healthy lifestyle.