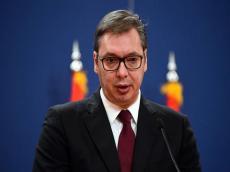 Serbian President Aleksandar Vucic said he will not hesitate to resign if his resignation helps save his country, Azernews reports per TASS.
"Anyway, this is my last mandate. I know my duties. If there is a need to save the state and win time, I won't hesitate. <??…> I am living for my country. I am my country's soldier and will do what is in the state's interests at a certain point," he said in an address to the nation.
At a meeting with the leaders of the country's ruling Serbian Progressive Party on Sunday, Vucic said he was ready to quit as the political force leader.