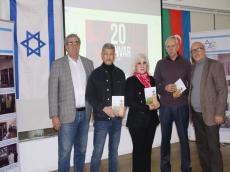 The Israeli public has paid tribute to innocent victims of the January 20 tragedy, when Soviet troops were brought into Baku to suppress a peaceful protest, Azernews reports, citing Trend Life.
The republic by that time was filled with hundreds of thousands of refugees from Armenia, Karabakh, and other parts of Azerbaijan, expelled by Armenian separatists in order to seize and appropriate the original Azerbaijani territories. All those events were preceded by the criminal actions of Armenian ideologists, who incited the implementation of the crazy idea of "restoring greater Armenia".
How the Karabakh conflict started is described in the book "The Karabakh Trap" by well-known Israeli journalist David Cohn, published by the AzIz Association.
Presenting his book, David Kon (Vadim Korsh) from Baku, in particular, said that when speaking about any kind of conflict, one should start from its origins, since only the roots of the conflict can answer the eternal question of who is to blame. At the same time, he added that he wrote only about what he saw and heard, in which he took part.
The events described in David Kon's book led to the tragedy of January 1990, when 147 innocent people were killed in Baku in one night, 744 people were seriously injured, and hundreds of invalids and orphans were left.
Describing those terrible events, he added that if such a strong politician as Heydar Aliyev had been in power at that time, nothing like this would have happened in Azerbaijan. Further, David Kon spoke about his career in Baku, about how Jews lived and worked in Azerbaijan, who never knew oppression either at home or in their careers.
David Kon told how, when he was a novice journalist in the 80s, he repeatedly met with the then-First Secretary of Azerbaijan Heydar Aliyev. The journalist told how a wise and sensitive person, an extraordinary and talented politician was Heydar Aliyev, who was attentive to both creative people and professionals in various fields.
President of the Israel-Azerbaijan International Association AzIz Lev Spivak noted that innocent people of various nationalities fell victim to the January events of 1990 in Baku, among which were Jews who gave their lives for freedom and democracy in Azerbaijan. That evening, the vice-mayor of the city of Afula, Dr. B. Yudis, a member of the City Council Gennady Kipnis, and other employees of the municipality came to honor the memory of the victims of January 1990.
The evening was organized by AzIz Association with the support of the State Committee on Work with Diaspora.