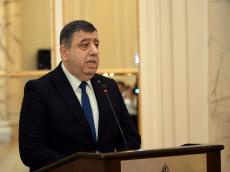 By Laman Ismayilova
Azerbaijani cuisine offers an abundance of taste, which invariably causes delight among gourmet tourists, Azernews reports.
Traditional food should be preserved as they provide insight into the country's history and culture. In this respect, the active role played in this process by the National Culinary Center has been invaluable.
Issues of Azerbaijani cuisine preservation have been discussed at a conference on "Promotional prospects of Azerbaijani cuisine" held in Baku.
In his speech, the director of the National Culinary Center, Orkhan Sadigov, outlined that the preservation of national cuisine is an important factor for the identification and national heritage.
He emphasized that the center aims at improving the scientific-methodological base. The National Culinary Center intends to become a scientific and support center for institutions involved in the promotion of Azerbaijani cuisine and the creation of a national food register.
"The National Culinary Center invites chefs and business owners, who want to see themselves in this field, to cooperate. Because cooking is a legacy left to us and brings income to the budget. As the National Culinary Center, we have left our door open to everyone. Anyone who wants to try himself/herself in this field can come at any time and the state will take care of them. But it should be taken into account that our national cuisine is our national heritage," he concluded.