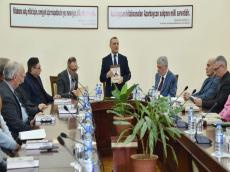 By Azernews
By Laman Ismayilova
The Azerbaijani National Library has presented digital copies of Nizami's manuscripts, Azernews reports.
The National Library has obtained digital copies of a total of 156 rare manuscripts as part of the project "Return of national and spiritual values to Motherland".
Nizami's "Poetry collection" (Tehran, 1295) is of special attention as it is probably the first manuscript containing the ghazals of the Azerbaijani writer and philosopher. Copies of his poem "Khosrov and Shirin" are also unique and noteworthy.
Speaking at the event, the director of the National Library, Prof Karim Tahirov, stressed Nizami's role in Azerbaijani literature. He recalled that the poet's manuscripts were exported abroad over the past historical period.
Furthermore, these manuscripts were included in the collections of world-famous museums and libraries.
The Azerbaijani National Library in partnership with the Heydar Aliyev Foundation transferred digital copies of the manuscripts of Azerbaijani classics stored in the biggest libraries in the world.
The National Library started to work on obtaining digital copies in 2021 within the Year of Nizami Ganjavi. The library will further continue work in this direction.
The library director also spoke about the project to create a joint commission with the Institute of Manuscripts. The joint work implies research and manuscript publication.
Among the manuscripts discovered as a result of research in the last year are copies of Nizami's works (1295) and the oldest manuscript of "Khamsa" (1312). One copy of each 30 manuscripts has been included in the National Library's Rare Books Fund.
During the event, the event participants were presented with an electronic database "Manuscripts of Nizami Ganjavi in the libraries of the world".
In their remarks, Director-General of the Institute of Manuscripts Teymur Karimli, Secretary of the Union of Writers Ilgar Fahmi, head of the Ancient Manuscripts Department at the Institute of Literature, Professor Imamverdi Hamidov, Scientific Secretary of the Institute of Literature Aygun Bagirova, Scientific Secretary of the Institute of Manuscripts, Associate Professor Azizagi Najafov and others highlighted Nizami's contribution to Azerbaijani literature.
They outlined the significance of manuscripts for literary critics and the work done by the National Library in this direction.
The presentation participants expressed their gratitude to the Azerbaijan National Library for discovering and placing at the disposal of specialists ancient manuscripts, hitherto unknown to Azerbaijani science.
In conclusion, the participants got acquainted with the exposition of Nizami's manuscripts published for the National Library collection.