The Karabakh Liberation Organization (KLO) spread a declaration in connection with the intention of a group of Armenian NGOs to observe parliamentary elections in Azerbaijan.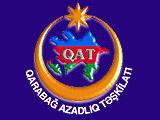 It was informed in the declaration entered APA from KLO that this is not the first time Armenians express this wish.
"There are persons treating truly these messages of Armenians. KLO demands persons positively valuing this intention to break any relations or contacts with Armenians. If Armenians are brought to Azerbaijan, that organization or person will meet KLO in front of him. We can not be indifferent to any separatist Armenian's being welcomed grandiosely in Baku".