"The police of Azerbaijan are not the police functioned in 1998, 2003.They are more professional and their material technical base are strong now".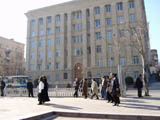 Deputy Interior Minister Vilayet Eyvazov told while responding to the questions concerning the level of preparation of the police for the parliamentary elections.
Stating that, the police are devoted to the state, statehood, Azerbaijani people, President of Azerbaijan, the deputy Minister stressed that there is no probability of unrest and velvet revolution: "Such attempts will be prevented decisively. We have opportunity and decisiveness for this" .He guaranteed that the elections will be held in the atmosphere of peace and according to the Constitution.
APFP(r) chairman Ali Kerimli said of V.Eyvazov's opinions not to be true: "The opposition of Azerbaijan does not keep any gun. If there is any why the law enforcement bodies are not aware of it? This is false information and aims at that the struggle acquires force level. We want to win by struggling with carnation in our hands".
A.Kerimli considers that, the struggle of the opposition has achieved certain results and increased attention of the international organizations to Azerbaijan is due to this namely. According to him, such information is spread in order to insure against international oppressions.
/APA/