President Ilham Aliyev will receive director of the USA National Democracy Institute, former State Secretary of this country Madlen Albright who started her visit to our country.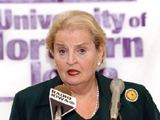 Head of social-political department of President's Office Ali Hasanov told the journalists.
According to the head of department, M.Albright will conduct meetings with state officials of Azerbaijan, NGOs and representatives of political parties in the frame of the two-day visit.
The objective of the visit of the former state secretary to our country is to familiarize herself with the situation regarding the parliamentary elections due to 6 November this year in Azerbaijan.
It must be noted that, the USA is interested in the parliamentary elections to be held in Azerbaijan, a tender for holding "Exit-poll" in these elections has been announced in this country.
/APA/