"I don't know the exact date of the next meetings of delimitation commissions. However, important steps have been taken in the direction of resolution of border problems with the neighboring states".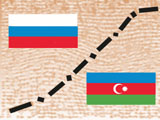 APA was informed by commander of the troops of State Border Service, Lieutenant General Elchin Guliyev.
He said that, several positive results were achieved concerning the delimitation of frontiers in the last meeting of Azerbaijani-Russia joint delimitation commission held in Derbend. "The majority of the debated territories with Russia-were agreed in the joint delimitation commission in Derbend. There are achievements in the matter concerning the delimitation of the frontiers with Georgia. I am sure that, positive results will be achieved in the solution of these problems".
Lieutenant General Elchin Guliyev also gave information about the recent official visits to Bulgaria and Hungary. "The visits serve the strengthening of international relations of the State Border Service. International relations of the State Border Service are strengthening. I was on a two-day official visit to Bulgaria on May 20-21. The objective of the visit was to develop cooperation between Bulgaria and the State Border Service. Then I attended the international conference dedicated to the organization of protection of frontiers in Hungary on May 23-24. These visits serve to the development of international relations and we shall develop these relations in future. There is not such a state in the world that is able to develop its frontier service structures independently. Therefore, the states as well as Azerbaijan have to take joint steps concerning the solution of security problems in the frontiers".
Elchin Guliyev stated that, trainings on protection of pipelines and oil deposits in the Caspian Sea will be held soon. "Aviation opportunities of the State Border Service will be applied in these trainings. The opportunities of our border troops will be displayed thoroughly in the trainings".