The employee of American McDermott, which is operator of BP Azerbaijan and conducts construction of underwater pipelines, died during accomplishment of works at specialized ship "Israfil Huseynov".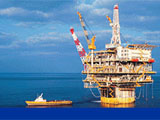 The agency Trend reports, bp informed accident took place 24 April at 13-30, when employee of McDermott fell out from the ship "Israfil Huseynov".
"Immediately measures on his rescue were undertaken. First, rescue boats, and then helicopter were involved, however, unfavorable weather conditions  hindered conducting search and rescue works. The quest lasted over the next day too. The family of employee and corresponding bodies of Azerbaijan were informed about accident", -bp indicated.
Law enforcement bodies of Azerbaijan have already visited site of occurrence and started official investigation of the case. "McDermott routinely informs family of employee about the process of search. The head of bp Azerbaijan David Woodward met with the family of dead employee, BP indicated.