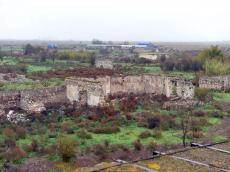 By Azernews
By Rashid Shirinov
President Ilham Aliyev has ordered to restore the liberated Jojug Marjanli village in Jabrayil region of Azerbaijan, Azertac reported.
Under the order, 4 million manats ($2.12 million) was allocated from the President`s 2017 Contingency Fund to the State Committee on Deals of Refugees and IDPs for the construction of 50 private houses, a school building and relevant infrastructure at the first stage.
The Jojug Marjanli village in Jabrayil region was liberated from the Armenian occupation in April 2016 as a result of a successful counter-attack of the Azerbaijani Army. Now, people can safely live in the village.  
The situation on the frontline aggravated on April 2, 2016, after the Armenian military units in the occupied lands began shelling Azerbaijan's positions. To protect civilian population, the Azerbaijani Armed Forces launched counter attacks and as a result, the Azerbaijani troops retook hills around the village of Talish, as well as Seysulan settlement, and also took over Lele Tepe hill located in the direction of Fizuli region.
Azerbaijan and Armenia declared a truce brokered by Russia on April 5, 2016. However, Armenia continued to breach the ceasefire.
The conflict between Azerbaijan and Armenia over Nagorno-Karabakh, a breakaway territory of Azerbaijan, has continued for about 30 years, following the Armenia's territorial claims against Azerbaijan in 1988. The military conflict, characterized by violence against civilians and ethnic cleansing, resulted in the injury, death, and disappearance of thousands of people, ended with occupation of 20 percent of Azerbaijan, including the Nagorno-Karabakh region and seven surrounding regions.