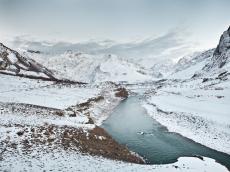 /By AzerNews/

By Laman Sadigova
Turkmen President Gurbanguly Berdymukhammedov, speaking at the VII World Water Forum, which opened in Daegu - South Korean city –,voiced an initiative for developing a UN water strategy.
Addressing the event, the president said water problems today cannot be considered in isolation from global development plans, environmental and food security and the creation of an integrated system of sustainable energy.
Turkmenistan has one of the fastest-growing economies in the world – largely as a result of its oil and gas reserves. Despite this new-found wealth the country has struggled to allocate its investments in the water sector effectively.
Berdymukhammedov said Turkmenistan sees the possibility of a systematic and multi-level dialogue aimed at the consideration of all problems associated with the formation and reduction of water sources, their sensible and economical consumption in creating the new political and diplomatic forms of multilateral communication like the "water diplomacy" the only way forward.
The problem of trans-boundary waters in Central Asia appeared after the Soviet Union collapsed. It became the main cause of disagreement between Central Asian countries. The use of the Amu Darya and Syr Darya Rivers - water resources of the Aral Sea basin, remains a sore point of contentious in the region.
Turkmenistan joined the UN Convention on the Protection and Use of Trans-boundary Water courses and International Lakes of March 17, 1992 in 2012.
UN welcomed Turkmenistan's offer, stressing the fact that it is an important step towards strengthening trans-boundary water cooperation and integrated water resources management. This agreement is very important for the country, 80-90 percent of which is a desert.
Turkmenistan which shares borders with Kazakhstan, Uzbekistan, Iran and Afghanistan, uses the water resources available in accordance with the agreed quota of the four trans-boundary rivers: the Amu Darya Valley, Atrek and Murghab.