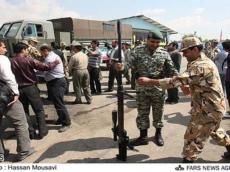 By Sara Rajabova
The Iranian Army will introduce new weapons and other war machines in the near future, confirmed officials.
Ahmad Reza Pourdastan, Iranian Army commander has said new weapons will be unveiled on April 15.
Pourdastan added that one of these new weapons is a wheeled tank which will be unveiled for the first time in the country, Fars news agency reported on April 12.
He explained that the tank uses a 90-milimeter canon and is operated by four people.
A 4x4 armed robot, which can carry two missiles and 600 kilograms loads, will also be introduced, confirmed Pourdastan.
He further added that the anti-chopper, anti-armor 23mm rifle, as well as a superlight, tracked vehicle, which can travel at 100 kmph on uneven roads and 130 kmph on gravel roads figure among the other products to be unveiled.
Pourdastan said the army used suicide drones in a recent series of exercises held in southeastern Iran, adding that that the drones are planned to be equipped with missile and rocket in the future.
The Iranian army will also hold an electronic warfare exercise in the near future. Pourdastan, said the drill which will be held in Iran's central province of Esfahan is scheduled for the third Iranian calendar month (May 22- June 20.)
The army will test establishing communication between the forces and using telecommunication equipment under jamming attack, noted the Iranian commander.
Furthermore, Iran navy will soon launch a new domestically-manufactured submarine.
Rear Admiral Habibollah Sayyari, a Navy commander informed that Iran is also working on a new destroyer and expressed hope that the vessel would join the navy by the end of the current Iranian year (March 19, 2016), Press TV reported.
He added that the new destroyer features a variety of new military equipment and weapons.
In recent years, Iran has made several major breakthroughs in its defense sector and attained self-sufficiency in producing important military equipment and systems, including a variety of domestically-manufactured drones.
Since 1992, Iran has manufactured its own tanks, armored personnel carriers, missiles, radars, boats, submarines and fighter planes.
The country has so far unveiled various domestically produced drones, including Ababil, Fotros, Hazem, Karrar (long range attack drone), Mohajer, Sarir, Shahed 129, Yasir and Zohal.
Iranian officials have always stressed that the country's military and arms programs serve defensive purposes and should not be perceived as a threat to any other country.