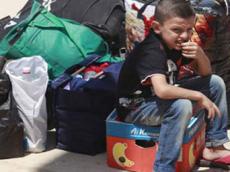 By AzerNews
The great hopes of many Armenians fleeing Syria unrest for a bright future in their homeland have been fading.
Most Syrian Armenians are regretting about returning to their motherland where one third of the population are living in poverty.
Almost 20,000 Armenians have moved to Armenia since 2012 trusting President Serzh Sargsyan's empty promises on jobs and low-interest loans. Now, the Syrian Armenians cannot provide their families with even a daily bread. Moreover, most of them are still seeking a roof over their heads. Some 5,000 of Syrian Armenians have already decided to leave the hopeless Armenia.
The Syrian Armenians complained about the discrimination they are facing in the post-Soviet country with mono-ethnic population. The ethnic Armenians face several threats and violence by the intolerant compatriots in Armenia.
The Armenian authorities have also settled some Syrian refugees in occupied Azerbaijani territories, violating the international laws and relevant conventions. This is an international crime, as the settlement of the refugees in a disputed territories is not acceptable.
Azerbaijan warned that the settlement of refugees in occupied territories is a very dangerous process with unpredictable consequences. The Azerbaijani government has called on the OSCE to hold a monitoring in its Armenian-occupied lands to put end to the illegal settlement.
Armenian media is largely focused on the settlement of Syrian refugees in the occupied territory of Azerbaijan. "The situation of the Syrian refugee families in the occupied Nagorno-Karabakh is miserable," the reports say.
The problems the refugees face in every sphere of life force them to migrate to third countries.
The Syrian Armenians' plans to set up business in Armenia have turn into a failure, as there are no conditions to do business.
Grayr Akilyan, an ethnic Armenian who fled from Syria in search of a roof over his head, intended to launch his business in furniture production, but he realized later that to do business in Armenia is difficult. He called on the Syrian Armenians to stay away from doing joint business with the local businessmen. Akilyan believes that the government should provide Syrian Armenians with more incentives.
Armenia is on the verge of the socio-economic collapse. The government is unable to resolve its citizens' problems. So, the authorities prefer not to see the Syrian compatriots' problems.
The reasons behind authorities' warm welcome of the Syrian Armenians is quiet understandable considering the county's plight. The number of the population in the hopeless country keeps declining. The Armenian citizens who suffer from poverty and unemployment are leaving Armenia for better future abroad.
The Syrian Armenians have turned into a good opportunity for the authorities to increase the number of the population artificially. However, the mono-ethnicity is quite a big factor on the way of realizing this desire and save the country from collapse. A society which lacks tolerance can hardly accept such a plan from a desperate government.