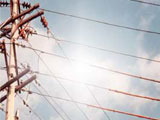 Wartsila Corporation, which is a leading global supplier of flexible and efficient power plant solutions, will supply a 384 MW gas power plant to Azerbaijan, the Corporation reported on Tuesday.
According to the report, in terms of output, this is the largest single power plant order that Wartsila has received to date.
When completed, the Boyuk Shor power plant located close to the capital Baku, will be operated by the state-owned utility Azerenerji JSC. The order is included in Wartsila's second quarter 2012 order book.
Wartsila says its scope of supply will be 21 Wartsila 50SG engines running on natural gas, related auxiliaries and process equipment.
The plant is scheduled to be operational in autumn 2013, and will supply electricity to the Baku regional grid.
According to Vesa Riihimaki, Group Vice President, Wartsila Power Plants, Corporation's already strong presence and unmatched track record in Azerbaijan is further enhanced with this important order.
Wartsila has been present in Azerbaijan since the middle of 1990's ans has already supplied seven power plants in Azerbaijan, producing a total of over 860 MW of power generating capacity.
/
Trend
/