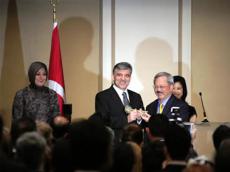 This week, the co-founders and Board Directors of the Pax Turcica Institute (PTI), Javid Huseynov and Ergun Kirlikovali, met with President of Turkey, Abdullah Gül, who was visiting San Francisco, California. PTI reported.
This was a first-ever visit by a Turkish President to the U.S. West Coast. In a private meeting with the Turkish and Turkic community leaders, President Gül was also informed about the Pax Turcica action campaigns to raise public awareness and to advance the Turkic-American interests. President Gül highly commended these activities. The Ambassador of Turkey to the United States, Namik Tan, and the Consul General of Turkey in Los Angeles, Aydin Topcu, took part in the meeting as well.
A photo from this meeting is available below. This and other photographs and information about President Gül's visit to San Francisco are also available on the website of Turkish Presidential Administration.
PTI co-founders further joined the reception held at Fairmont Hotel in honor of President Gül. During the reception Mayor of San Francisco, Edwin M. Lee, presented the keys of the city to the President. 
/Today.Az/