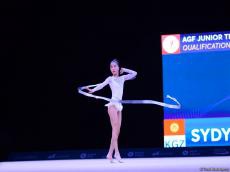 By Trend:
The Azerbaijan Gymnastics Federation (AGF) Junior Trophy International Tournament kicked off at the National Gymnastics Arena in Baku April 23.
The qualifying competitions for individuals will be held today. The winners in the team competition and apparatus finals will be announced today.
According to the rules of the International Gymnastics Federation (FIG), the participants will compete in the age category of gymnasts born in 2003-2005.
Darya Farshbafshakhriyari, Arzu Jalilova, Yelizaveta Luzan and Narmina Samadova are representing Azerbaijan at the competitions.
The athletes from 18 countries are expected to participate in the tournament.
AGF Junior Trophy will be organized in the format of the Rhythmic Gymnastics European Championships to be held in Spain's Guadalajara city on June 1-3, 2018. It will give the gymnasts an opportunity to demonstrate more confident performances at the European Championships by perfecting their program.