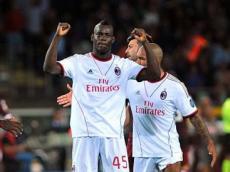 Mario Balotelli has dismissed claims that there is unrest in the AC Milan team, stating the "fantastic" squad are united.
Clarence Seedorf's side defeated Fiorentina 2-0 on Wednesday, with Balotelli scoring a free kick to secure the points for his side after Philippe Mexes' opener.
It was the Rossoneri's first win in six games and there has been a lot of speculation in the Italian press that there are divisions in the dressing room, but Balotelli insists there is no such trouble within the squad.
"I haven't read the newspapers, but if you lose one or two games someone gets called into question," Balotelli told reporters after the game.
"We are not nervous and no one argues in the locker room, the group is fantastic and has always been united.
"Certainly, we were sad about the exit from the Champions League and it is bad that we won't go to Europe next year, but rumours of quarrels are all rubbish."
The Italy international was booked during the first-half, his 10th yellow card of the season, and he feels disappointed at the conduct of the referee when it came to discussing on-the-field matters.
"The person who annoyed me most on the field was the referee," he added. "I don't understand why some referees in Italy won't talk.
"The referee today gave no dialogue. I have been warned for telling him that an opponent had touched me with his hand and he warned me that I was talking too much.
"I talk too much, but you can also have a dialogue, it seems a bit of a stupid situation."

/Goal.Com/