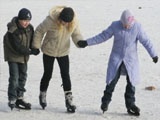 "Artificial skating ice rink to be constructed on the Azneft square in Baku due to New Year," Deputy Head of Seaside Boulevard under the Azerbaijan Cabinet of Ministers Nazim Majidov said.
He said total area of the rink is 1,000 square meters,  length - 40 meters and width-25 meters.
"The equipment have been imported from the Netherlands, but installed by our own specialists. The ice rink will operate in next few days," he added.
"On the opening day roller skates will be distributed to those who want to skate. Instructors will assist those who cannot skate. They will teach to skate on the ice rink," he said.
"A 10-minute ride will cost 5 manat, 20 minutes-8 manat, 40 minutes-14 manat and 1 hour - 20 manat. Individuals older than 5 years will be allowed to skate. Drunk and disabled persons is prohibited to skate," he noted.
"Ice skating rink will be available only in winter," he added.
S. Mammadov
Day.Az