Azerbaijan's Press Council has released the black list of newspaper again.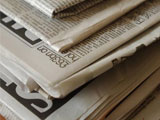 The council said the list includes the publications that regularly violate the Rules of Professional Ethics of Journalists, ignore the opinion of the persons they criticize, principle of inviolability of private life, insult people's honor and dignity.
The black list includes 86 publications.
The publications were warned in accordance with the decision of the July 21 meeting of Azerbaijan Press Council Management Board.
/
APA
/