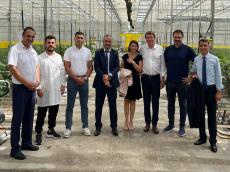 One of the leading agricultural exhibitions in Europe, specializing in the cultivation of fruits and vegetables, the President of the Italian MacFrut, Renzo Piracchini, within the framework of the project of the Italian-Azerbaijani University, met with representatives of agriculture on August 30-31 at ADA University, Azernews reports.
Piraccini, whose visit to Azerbaijan was organized by ADA University, took part in meetings with the Caspian Event Organizers, the Italian Trade Agency (ITA), the Azersun Holding group of companies, the Ministry of Agriculture and AZPROMO.
On August 31, an expert seminar was held at ADA University. The seminar was attended by representatives of agricultural enterprises and students.
The event discussed the knowledge and skills needed to keep up with the high competition in the rapidly changing global horticulture and horticulture sector and highlighted the importance of keeping up with technology and innovation.
"During my stay in Baku, I observed the price and quality of agricultural products in local markets. Your products are of good quality. However, in order to bring these products to the world market, it is important to first adapt them to international standards. and provide theoretical and practical support to manufacturers," Renzo Piracchini said.
Professor of the University of Bologna Matteo Vittuari and President of the Italian-Azerbaijani Chamber of Commerce Manuela Traldi also spoke at the seminar, who emphasized the importance of strengthening inter-sectoral ties in this area in order to create educational programs of a new generation.
It should be noted that during his visit to Azerbaijan, Renzo Piracchini visited the Guba and Gusar regions, met with local companies specializing in growing fruits, got acquainted with the organization of the work process and exchanged ideas.
The visit of an expert to our country helps local experts to benefit from international experience. The McFruit exhibition is an international promotional platform for companies specializing in the cultivation of fruits and vegetables. The MacFrut Academy, powered by this platform, offers professionals a wealth of knowledge in food supply chain management, including know-how and application of innovation.
This event, held within the framework of the initiative of the Italian-Azerbaijani University, is an important part of the cooperation between ADA University and the University of Bologna and serves to disseminate the international experience of managers and specialists in the agricultural and food industry. This academic collaboration also includes the provision of postgraduate, undergraduate, and graduate programs with the University of Bologna.