Lieutenant of Azerbaijani Army Ramil Safarov, who is accused of killing Armenian officer Gurgen Markaryan and currently is in prison in Hungary, yesterday has spoken with APA correspondent.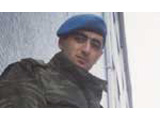 "I have no health problem, I feel well and my detention conditions are satisfactory," said Safarov mentioning that the trial will start on December 15.
It is also expected that results of medical examination that Safarov passed for the third time since his arrest will be publicized soon.
Safarov expressed his hope that his trial will be held fairly.
APA