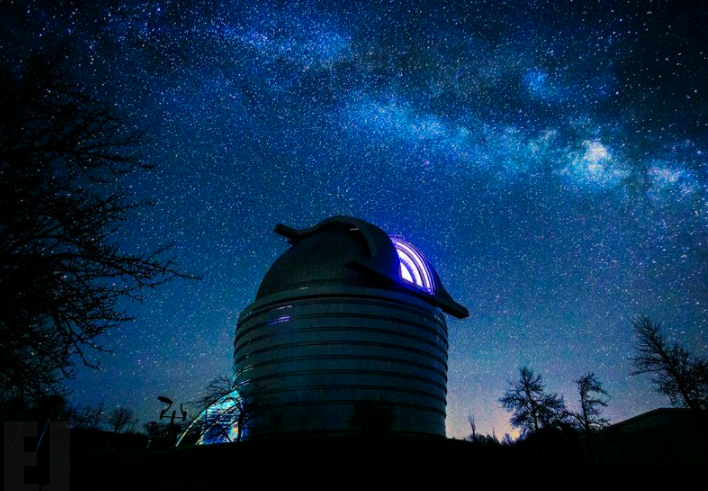 By Azernews
By Laman Ismayilova
From exciting nebulae to spectacular galaxies, the cosmos is full of dazzling celestial objects.
You don't have to visit a galaxy far, far away to see gorgeous views of  space.
If you're fascinated by the thought of faraway galaxies, then gaze up at the night's sky in Azerbaijan. Shamakhi Astrophysical Observatory is a great destination for astronomy enthusiasts.
The observatory offers some of the best star-gazing conditions in the world.
Here you can feel the true magic when the sky comes alive with a million blazing stars. The creation of an astrophysical observatory in Azerbaijan was planned as early as 1928.
For many reasons, the project could not be implemented, and the World War II postponed this idea for the post-war period.
In 1953, a special laboratory for the study of cosmic phenomena was created at the base of the Institute of Physics in Azerbaijan.
Construction of the observatory began in 1958 in then Azerbaijan SSR and officially opened on January 13, 1960. Yusif Mammadaliyev, prominent Azerbaijani scientist, played a major role in foundation of the observatory.
In 1991, the observatory was given a name of Nasiraddin Tusi – mathematician, physicist and astronomer of medieval ages. A township for habitation of workers was established under the observatory and it was named after Yusif Mammadaliyev (Pirgulu).
In September 2008, the observatory went through capital repair. As a result, the exhibition hall, museum, conference and lecture halls, six buildings for telescopes, including the building with the main two-metre telescope, and main administrative building have been overhauled, and a canteen and cottages have been built.
Studies at the observatory are carried out using reflecting telescope produced in Germany. The telescope with diameter of mirror of 2 meters  is the first big telescope in the South Caucasus.
Besides that, Meniscus telescope, chromospheric and photospheric AFR-2 telescope, AZT-8 reflector  and other instruments are also used in the observatory.
Shamakhi Astrophysical Observatory is filled with opportunities to observe, learn, and be inspired.
As a result of its work, dozens of celestial bodies were discovered.
The new asteroids were named "SAO", "Javid", "Muslim Magomayev", "Nizami", "Tusi", "Azerbaijan".
Currently, more than 10 small celestial bodies and planets, the craters are connected with Azerbaijan.
In addition,  Shamakhi Observatory has established close scientific ties with the National Aeronautics and Space Administration (NASA) to study the Sun.
Shamakhi Observatory is one of many astronomical complexes from which the information is provided to NASA.
If you'd like to enjoy dizzying celestial view, then you need to add this incredible place to your bucket list.