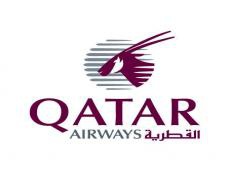 Qatar Airways is pleased to announce the launch of its 'Global Travel Boutique' promotion, offering passengers from around the world amazing fares on flights in both Economy and Business Class.
Valid September 12-19, the promotion will offer discounts of up to 50 per cent on fares in both Economy and Business Class, as well as special companion fares and discounted group bookings.
Qatar Airways Chief Commercial Officer, Mr. Ehab Amin, said: "We are delighted to offer this spectacular promotion - our biggest commercial promotion to date - following the success of our previous Travel Festival campaigns. Our passengers now have the chance to choose from a variety of incredible packages and discounts on fares in both Economy and Business Class."
Passengers can now book flights to the most popular global travel destinations, with Economy Class fares starting at AZN 779 to Guangzhou, AZN 1,371 to Boston, AZN 809 to Geneva, AZN 1,102 to Los Angeles and AZN 1,150 to Manila. Business Class return fares are starting at AZN 993 to Tbilisi, AZN 4,157 to Kuala Lumpur and AZN 3,734 to Bangkok.These exclusive offers are valid for travel between 15 September and 31 May 2018.
As part of the promotion, Qatar Airways is also offering special companion fares allowing two passengers travelling together on board First and Business Class to receive further discounts. Exclusive discounts are also being offered on group bookings of between three and seven passengers booking together.
To take advantage of thisoffer, passengers can visit qatarairways.com or any Qatar Airways sales office or contact your nearest travel agent.
Qatar Airways will add flights to many more exciting destinations in its network in 2017 and 2018, including Abidjan, Ivory Coast; Accra, Ghana; Canberra, Australia; Chiang Mai, Thailand;Utapao, Thailand; Chittagong, Bangladesh and Mombasa, Kenya, to name a few.
The national carrier of the State of Qataris one of the fastest-growing airlines operating one of the youngest fleets in the world. Now in its twentieth year of operations, Qatar Airways has a modern fleet of 200 aircraft flying to business and leisure destinations across six continents.
The award-winning airline has received a number of accolades this year, including Airline of the Year by the prestigious 2017 Skytrax World Airline Awards, which was held at the Paris Air Show. This is the fourth time that Qatar Airways has been given this global recognition. Qatar's national carrier also won a raft of other major awards at the ceremony, including Best Airline in the Middle East, World's Best Business Class and World's Best First Class Airline Lounge.
Qatar Airways, the national carrier of the State of Qatar, is celebrating 20 years of Going Places Together with travelers across its more than 150 business and leisure destinations. The world's fast growing airline will add a number of exciting new destinations to its growing network in 2017/18, including Dublin, Nice, Skopje, Sarajevo and many more, flying passengers on board its modern fleet of 200 aircraft. 
A multiple award-winning airline, Qatar Airways was recently named Airline of the Year by the 2017 World Airline Awards, managed by international air transport rating organizationSkytrax. It was also named World's Best Business Class, Best Airline in the Middle East, and World's Best First Class Airline Lounge.
Qatar Airways is a member of the oneworld global alliance. The award-winning alliance was named the World's Best Airline Alliance 2015 by Skytrax for the third year running. Qatar Airways was the first Gulf carrier to join global airline alliance, oneworld, enabling its passengers to benefit from more than 1,000 airports in more than 150 countries, with 14,250 daily departures.
Oryx One, Qatar Airways' in-flight entertainment system offers passengers up to 4,000 entertainment options from the latest blockbuster movies, TV box sets, music, games and much more. Passengers flying on Qatar Airways flights served by its B787, A350, A380, A319 and select A320 and A330 aircraft can also stay in touch with their friends and family around the world by using the award-winning airline's on-board Wi-Fi and GSM service.
Qatar Airways proudly supports a range of exciting international and local initiatives dedicated to enriching the global community that it serves. Qatar Airways, the official FIFA partner, is the official sponsor of many top-level sporting events, including the FIFA 2018 and 2022 World Cups, reflecting the values of sports as a means of bringing people together, something at the core of the airline's own brand message - Going Places Together.
Qatar Airways Cargo, the world's third largest international cargo carrier, serves 60 exclusive freighter destinations worldwide via its world-class Doha hub and also delivers freight to more than 150 key business and leisure destinations globally with 200 aircraft. The Qatar Airways Cargo fleet includes eight Airbus A330 freighters and 12 Boeing 777 freighters.
For further information, please contact:
Qatar Airways Group, Corporate Communications Department
Tel: +974 4022 2200