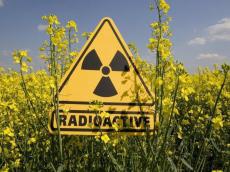 By Amina Nazarli
Radiation surrounds us all the time. It's in the air, the ground, our homes, and even our food. We're exposed to radiation when we fly and when we get medical treatment - and whenever we leave the house.
But how much radiation is too much - and what are we all exposed to? 
Low doses of nuclear radiation are more likely to change cells by modifying DNA, while high doses tend to kill cells. Long-term exposure to low doses of radiation increase the odds of getting cancer, while a single high dose will quickly cause immediate damage to cells and tissues. Those who have been exposed to high doses can also have skin damage ranging from itching to burns, blisters and ulcers. 
In the world today, radiation levels are measured to ensure safe life of people. As for Azerbaijan, radiation exposure rates are monitored by the Radiation Problems Institute.
Director of the Institute Ravan Mehdiyev said that they conduct research in the areas where it is necessary, and the studies show there is no radiation contamination in the country.  
"No energy facility in Azerbaijan is operating with radioactive and ionizing radiation," he said, adding the situation is different in other regions. "For example, Armenia has the Atomic Power Station (APS), where the radiation hazard is very high. As Turkey is closer to that station than we, they experience more radiation risk".
Mehdiyev told Trend that the organization he represents is engaged in measuring radiation exposure rates for scientific research.

"Previously, we conducted researches in oil-polluted areas of Baku. It should be noted that in the oil extracted areas, along with the oil, lay water are available, which contain radiation elements. But now these territories are cleaned and controlled by SOCAR," he said.
Matanat Avazova, Deputy Director of the National Environmental Monitoring Department at the Ecology Ministry, also noted that there is no radiation hazard in the country.
"We have automatic stations for measuring radiation in Azerbaijan. These stations are mainly located in border areas. These stations have been operating for many years. During this time, no emergency situation has been registered in the country. Radiation conditions are stable in the country, because there is no radiation source in Azerbaijan," she said.
Speaking about radioactive radon gas in the oil fields in Azerbaijan, Avazova said that this radioactive element has no danger to human life in open air.

"Such radiating elements are not dangerous in the open air, and can be dangerous only in indoor conditions," she said.
Avazova further mentioned that natural radiation areas in Azerbaijan are the Greater Caucasus Range and Kur-Araz plain.
"For example, the levels of natural radiation in the Oghuz, Gabala, Shamakhi, Ismayilli, Zagatala and Balakan regions are 12-20 mr/hr. For Absheron this background level is 6-8, 8-10 mr/hr." she explained.
Exposure rates of up to 30-50 micro-roentgen per hour are considered normal. But the large dosages can have dramatic effects.