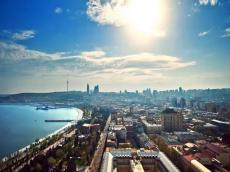 By Azernews
By Amina Nazarli
Tourism in Azerbaijan has a thousand-year tradition. To make sure it is enough to remember the Great Silk Road, which contributed to not only commercial, but also cultural exchange. Of course, a special surge of interest in the country located on the Caspian Sea shore arose during the era of hydrocarbon resources.
Significant socio-economic reforms put Baku as a business center on a par with European cities in terms of hotel standards and the development of tourist infrastructure in general. The architecture of Baku combines modern European city and the historical spirit of the old town, which attract thousands of tourists.
Situated on the Great Silk Road, and divided partially between Eastern Europe and Western Asia, Azerbaijan blended the best from both cultures, forming its own unique rich culture, that's why its people are neither totally Eastern, nor totally Western.
The number of tourists visiting Azerbaijan in 2016 increased by almost 11 percent compared to 2015. During the first nine months of 2016 Azerbaijan welcomed 1.71 million tourists. 
And this is possible thanks to the effective measures that covered creation of tourism infrastructure, cancellation of license, switch to the simplified visa regime, and issuance of "ASAN visa". Moreover, a draft law "On Tourism", which has sent to the Parliament will be discussed in the spring session of the structure, expecting to bring more benefits to this prospering sector.   
Last year, 35 hotels were built in our country, while 25 are under construction. In general, there are more than 500 hotels in Azerbaijan.  
Muzaffar Agakarimov, the adviser of the Chairman of Azerbaijani Tourism Association believes that Azerbaijan is able to welcome millions of tourists every year, but notes a need for certain programs, routes and services to reach the goal.
Emphasizing a plenty of opportunities enabling to gain earn successes in this sphere, the expert stressed that it is just necessary to properly use them.

"This year Baku will host the Islamic Solidarity Games and Formula 1 competitions. In addition the country's regions and the capital will hold international and local events," he said.
The majority of tourists coming to Azerbaijan, according to Agakarimov, are from Iran, Russia, Kazakhstan and Arab countries. "In the future, we expect that the number of tourists from Belarus will also increase. However, we should not stop on it and should attract tourists from Asian countries. 
For example, Indonesia, with 240-million-population and the most populous Muslim-majority, also show interest to Azerbaijan," he said. "Azerbaijan also should be interested in attracting tourists from multi-million-population countries such as Japan and South Korea and prepare appropriate programs. Alongside with this we should not forget about European countries and must achieve their growth. Baltic countries are also among them. We should not forget that during the Soviet period many tourists from these countries visited Azerbaijan for therapeutic purposes."  
The expert also spoke about the development of a favorite mode of many tourists worldwide -- rail tourism.
"We must widely use rail tourism opportunities in such directions as Azerbaijan-Georgia-Turkey for access to Europe, Azerbaijan-Iran in south direction and Azerbaijan-Russia in northern direction. The capacity of airplanes and buses are not so lot, while rail tourism satisfies both people and cheaper," he said.
It is also possible to use the potential of Caspian Sea and develop ship tourism. "This will contribute not only to the influx to Azerbaijan, but also Central Asia through the Caspian Sea," he explained.