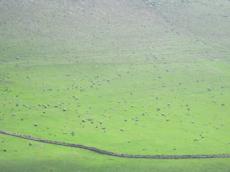 Mountain pastures have undergone anthropogenic pollution due to the use of gold deposits in the Gedabey region of Azerbaijan, Head of the Department of ecological geography of the Institute of Geography of the National Academy of Sciences of Azerbaijan (NASA), the candidate of agricultural sciences Enver Aliyev told
Trend
Aug. 19.
Studies of contaminated areas in the north-eastern slope of the Lesser Caucasus began, he said.
During the initial studies it was revealed that the mountain pastures of Gedabey area used as fodder for animals had undergone anthropogenic pollution.
During the next two-three years research for the study of damage caused by gold deposits is planned to be conducted in the area, Aliyev said.
During these studies the mass of lost vegetation will be calculated and as a result appropriate proposals will be prepared.
The scientist said that it was necessary to fully define the areas of pollution and try to minimize their area.
Aliyev went on to say that it is necessary to use modern technology to recycle the waste products and to transport them to unusable sites, adding that the territories previously undergone pollution must be returned into circulation in different ways.
Aliyev went on to add that during the Soviet period the use of alunite ore deposits in the area affected summer pastures of Dashkesan region.
He added that some areas of the summer pastures have completely undergone anthropogenic pollution, but there are areas that are contaminated to a lesser extent.
Aliyev concluded that after implementation of certain works the areas of pastures contaminated to a lesser extent can be used as summer pastures.