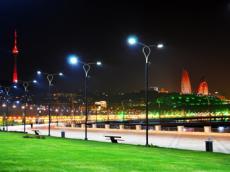 The National Sea Park in Baku will introduce a number of innovations in connection with the first European games to be held in 2015, deputy head of the Office of the National Seaside Park Nazim Majidov told
Trend
Aug. 19.
New areas of Boulevard in both directions will be commissioned in Seaside Park before the first European games.
Taking into account that a large number of people will arrive in Baku with the first European games, every cafe and restaurant will have post-terminals in the seaside park, and there will be a man speaking a foreign language, especially English in every cafe, restaurant and attraction. Wi-Fi services will be available at all sites within the park, Majidov said.
He said that after the expansion of the park's territory the route of walks will be changed, too. At present, the passenger boats ply around the State Flag Square and the "Crystal Hall", and after the expansion their route will run along the entire park.
It's necessary to note that the length of the Seaside Park has been increased by six kilometers, and after expansion in both directions, the length of the park will be 15 kilometers.
Majidov noted that the newly opened areas may have different forms of illumination, benches and so on, adding that the route of the electric vehicles will also change after the expansion of the park.
Majidov went on to add that the security officers will continue their English language courses.
"Approximately 50 percent of employees passed an English language course before the "Eurovision" contest and most of them currently continue to work in the seaside park. Therefore another part of employees is planned to be trained," he explained.