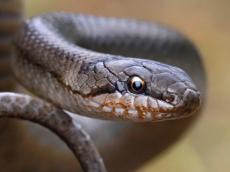 By AzerNews
A 17-year-old resident of Aran Yanigli in Tovuz, Sahil Abbasov was bitten by a snake in the left leg while pouring the clover.
The victim was immediately taken to Tovuz Region Central Hospital. His condition is now stable.
Over 20 patients have been brought to the Clinical Medical Center for snakebite since this April, the Head of the Toxicology Department of the Clinical Medical Center Azer Magsudov said.
Annually, about 2.4 million cases of intoxication (poisoning caused by snakebite), 94,000-125,000 deaths, and about 400,000 cases of amputations and other serious health effects are reported in the world. Poor access to health care and lack of antitoxins increase the severity of injuries and their outcomes.
Snakes are found throughout the world except Antarctica, Iceland, Ireland, Greenland and New Zealand.
Snakes are mostly found in tropical regions.
Despite what we often see in movies or television, venomous snakebites are rare and if happen, they are rarely fatal to humans. However, for any snakebite, the best course of action is to get medical care as soon as possible.
In order to treat snakebites, follow the steps below:
1. Try to keep the snakebite victim still, as movement helps the venom spread through the body.
2. Keep the injured body part motionless and just below heart level.
3. Keep the victim warm, calm, and at rest, and transport him or her immediately to medical care. Do not allow him to eat or drink anything.
4. If medical care is more than half an hour away, wrap a bandage a few centimeters above the bite, keeping it loose enough to enable blood flow (you should be able to fit a finger beneath it). Leave the bandage in place until reaching medical care.
5. If you have a snakebite kit, wash the bite, and place the kit's suction device over the bite. (Do not suck the poison out with your mouth.) Do not remove the suction device until you reach a medical facility.
6. Try to identify the snake so the proper antivenin can be administered, but do not waste time or endanger yourself trying to capture or kill it.
7. If you are alone and on foot, start walking slowly toward help, exerting the injured area as little as possible. If you run or if the bite has delivered a large amount of venom, you may collapse, but snakebite seldom results in death.