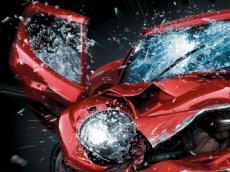 By AzerNews
The number of road accidents in Azerbaijan reached to 1,216 in the first half 2014, leaving 512 pedestrians and car passengers dead and 1,234 others injured.
The high number of road accidents is mainly due to growing average speed of traffic in the summers. People usually drive faster during holidays, which in turn leads to terrible consequences. Another reason for the accidents is rooted in the irresponsibility of some drivers, as they drink alcohol before driving.
Spokesman for Interior Ministry's central State Traffic Police Department Kamran Aliyev said most of the traffic accidents recorded in the country fell to Baku. In 444 traffic accidents during the mentioned period in Baku, 139 people were killed and 438 others injured.
Although he number of traffic accidents and death since early 2014 is less than in the same period of 2013 (less by 150 traffic accidents and 44 fatalities), Aliyev called on drivers to be more careful.
"The traffic accidents mainly took place because of high speed driving, pedestrians' careless behaviors, and etc.," he said.
Aliyev further said that Azerbaijan is developing its road infrastructure with constructing new roads. He noted that the new infrastructure paves the way for speedy driving among Azerbaijani drivers.
"Unfortunately, some drivers violate the laws by exceeding legal speed. Good quality of roads does not necessarily lead to speedy driving. The main reason is irresponsibly behavior of some drivers. First of all, a driver should be disciplined, monitor the technical conditions of his/her vehicle and observe traffic rules to prevent an accident," he noted.