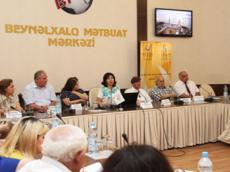 By AzerNews
Baku hosted a presentation of a project called "Support for conservation and development of the cultural heritage of Azerbaijan" by the Independent Research Center ELS.
The presentation was attended by prominent public figures and representatives of cultural and artistic fields.
The project, financed by the Council of State Support to NGOs under the president of Azerbaijan, presupposes publishing albums and compact disks of the winners of competition "New songs for children 2013", Head of the center Irada Yagubova said.
The collections will be distributed in kindergartens of Baku and Sumgayit.
The event also included discussions on preservation and promotion of cultural heritage, training of teachers and other issues.
During the discussions was raised the issues of provision of schools with musical instruments and other problems identified within the research.
In their speeches, Vice-Rector of the Baku Music Academy Gulnaz Abdullazade, Chairman of the Education Council Ajdar Agayev, composer, People's Artist of Azerbaijan Oktay Zulfuqarov, Representative of the Institute of Education's Problems Natig Akhundov spoke about the educational process, as well as inconsistencies in the textbooks.
Speakers noted that music lessons, shop classes and sports should not take the second place in schools' programs. Finally, some proposals were made to resolve the existing problems in this area.