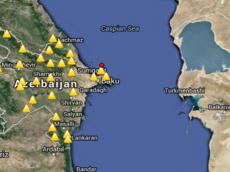 An earthquake measuring 3.2 on the Richter scale has hit the Azerbaijani sector of the Caspian Sea, a message posted on the website of the Republican Seismological Service Centre of the Azerbaijani National Academy of Sciences (ANAS) said on July 10.
The earthquake was recorded at 06:08 local time, on July 10, the Seismological Service Centre said.
Tremors were not felt. The focus of the earthquake was located at a depth of 55 kilometers.
/Trend/