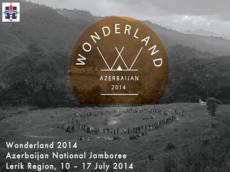 An International Scout Camp "Wonderland 2014 Azerbaijan" will be arranged in the Lerik district on July 10-17.
Organized by the Association of Scouts of Azerbaijan and the Ministry of Youth and Sport, the camp will involve representatives of scout organizations from Turkey, Georgia, Moldova, Belarus, Ukraine, Kazakhstan, Kyrgyzstan, Bangladesh, Egypt, Pakistan, Tunisia, Kenya, Southern Africa, Tanzania, Guatemala, Poland, Hungary, Liechtenstein and Australia.
The Association of Scouts of Azerbaijan (ASA), the national Scouting organization of Azerbaijan, was founded in 1997, and became the 150th member of the World Organization of the Scout Movement on August 20, 2000. The first scout camp in Azerbaijan was organized in the Nabran district.
Scout movement, first Founded by Lord Baden Powell in 1907, played the great and irreplaceable role in the history of 20th century. Just for 100 years the Movement has gathered more than 28 million scouts, girls and boys.

/AzerTAc/