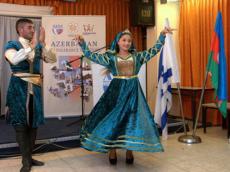 Azerbaijan - Land of Tolerance photo exhibition has opened in the Israeli city of Acre.
The exhibition is organized by Israel-Azerbaijan International Association (AZIZ) in partnership with the Heydar Aliyev Foundation and Azerbaijan National Tolerance Center.
Zeev Neumann, deputy mayor of Acre, and Yosi Peysakhov and Margaret Kazakova, members of city councils of Kiryat Yam and Or Akiva were among the participants in the opening ceremony.
In his remarks, Neumann highlighted the life of the Jewish community in Azerbaijan.
Neumann hailed the Azerbaijani government`s policy, saying it is based on friendship and mutual respect and is held in great support in the world.
He also praised the activities of AZIZ, saying the organization is making a considerable contribution to strengthening the relations between Azerbaijan and Israel.

/AzerTAc/