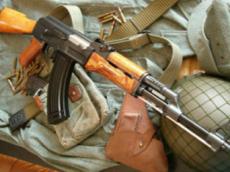 A soldier of the N military unit located on the contact line of Azerbaijani and Armenian troops Bahruz Agakishiyev wounded his colleague Kamran Ahmadov, killed another colleague Neyman Abdullayev, and then shot himself at about 6:45, the Azerbaijani defense ministry reported on June 20.
First aid was rendered to Ahmadov. He was placed to the hospital. His condition is severe.
It was not reported about the causes of the incident.
A criminal case was filed. The Military Prosecutor's Office conducts an investigation.

/Trend/