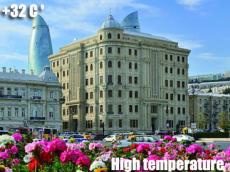 Volatile cloudiness and intermittent gloominess are expected against the backdrop of the chiefly rainless weather on May 13 in Baku and Absheron penisnula. Gentle south-eastern wind to be followed by north-western wind towards the night. The temperature will be +15-20C at night, while and +27-32C in the second half.
No precipitation except the short-term rain and lightning in some mountainous regions is expected in Azerbaijani regions. Western wind to replace the eastern wind in the evening. The temperature will be +16-21C at night and +29-34 and in the noon, while +8-13C in mountains at night and +19-24C in the noon.
Decrease of the atmospheric pressure on May 13-14 in Abhseron peninsula, windy course of the weather on May 14 can make some meteosensitive people feel uncomfortable. Nonetheless comfortable temperature is a positive factor along with that.

/Exog.Gov.Az/