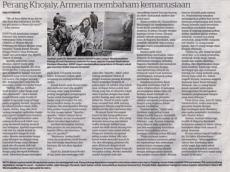 Malaysian "Harakah" newspaper has issued an article about the Khojaly genocide.
Headlined "Khojaly genocide, Armenia is destroying humanity", the article features an interview with Azerbaijani ambassador to Malaysia Galey Allahverdiyev.
The ambassador provides an insight into the causes and consequences of the Armenia-Azerbaijan Nagorno-Karabakh conflict, and the Armenian armed forces` atrocities against innocent Azerbaijanis in Khojaly.
The article also features some parts from a story by an Azerbaijani writer, which was translated by the Embassy into Malay language.

/AzeTAc/