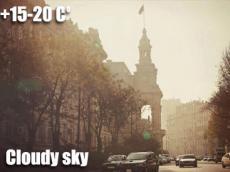 Changeable cloudy and generally dry course of weather is expected to gloom in the evening on March 29. Intermittently intensifying southern wind to be followed by the strong northern wind, the National Hydrometeorology Department of the Ministry of Ecology and Natural Resources forecasts.
The temperature will be +4-7C at night and +15-20 and up to +22C in the noon.
Northern and  western regions will have rainy evening. Rainfall is going to turn into snow and sleet in highland regions. Western blow to gain strength off and on. The temperature will be +5-10C at night and +15-20, while +0-5C mountains at night and +13-18C in the noon.

/Eco.Gov.Az/