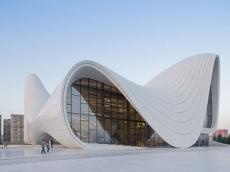 The Heydar Aliyev Center ranked the first among the world's 15 most beautiful concert halls according to building data company Emporis, the website of the U.S. CNN TV channel said.
"The Hamburg-based company has put together a list of what it's calling the world's most spectacular concert halls. These days concert halls also have remarkable architecture," according to the website.
More and more concert halls are being built that stand out by virtue of their eye-catching shapes, colors and materials, according to the company.
The Heydar Aliyev Center in Baku ranked the first in the company's ranking.
"The white building's curved, wave-like shape makes it seem as if it has been 'poured' into the landscape," according to the company.
Berlin's Philharmonie building, completed in 1963, also makes the list, as do the Cidade das Artes in Rio de Janeiro and Singapore's Esplanade Concert Hall.
The United States get two entries -- Los Angeles' Walt Disney Concert Hall "has the appearance of curved metal plates piled into one other and which ... make the design look like an outlandish fantasy," the website said.
One surprising omission from the list of 15 is Sydney's famous Opera House, the report said.

/Trend/