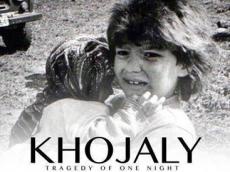 By AzerNews
The memory of the horrible massacre, known as Khojaly tragedy, has been flying over the planet, shaking hearts and saddening minds.
Khojaly tragedy is the most tragic bloody massacre in the history of mankind.
The Khojaly residents were celebrating the first of four Tuesdays before the ancient Novruz holiday of Azerbaijanis.
On that terrible night, Armenian vandals killed children and women with brutality. They even didn't compassionate unborn babies.
They took the lives of hundreds of innocent people, who would spend a lot of happy time together. Tens of children lost their parents. Thousands of people became disabled.
Considering numerous torture methods that Armenian vandals used to kill innocent people, one can see that there is no other second nation, who could invent so various cruel methods.
Escaping from the Armenian torture and vandalism, some of the Khojaly residents fled to forests. Weakened in the snowy passages and forests, the people were brutally destroyed by the Armenian armed forces.
It seems even the weather was conspiring with the vicious enemy, as some of the residents were frozen in the frost.
Some children managed to survive at that cold winter. Their memories are horrible. They witnessed the same horrors of the tragedy - family members' death.
Those people who are now grown-ups, the people who lost their childhood, suffer when they recollect the terrible night 22 years ago. That makes them suffer, pain, and torture.
Nothing can explain the horrors of that night better than the witnesses of that heinous massacre.
The then six-year old witness of the massacre, Taleh, remembers:
"That night, my father had just returned from the post. He said that the situation got worse. My mother opened the table. We just wanted to assemble at the table. The fire opened from all sides. After that time, Khojaly consistently went under fire. There was destruction and blood everywhere. I, my younger sister, my mother, my aunt, and other relatives tried to hide, but the Armenians kept all of us. Everywhere was filled with corpses. Bodies of infants were hung over the fences."
Samad Abishov, the then 14-year old witness, could not stop tearing while speaking about that tragic night, when he had to load his dead neighbors into the car.
"On February 25, I was on "Garagay" post. Khojaly had already been encircled for a long time. Even helicopters could not to break through. My relatives and my family were in Khojaly. My heart was breaking off. I run to the post several times intending to go home. I did not succeed. We did not know what to do. People who had managed to escape came in the morning. To help the people we went with volunteers from Aghdam and the National Army soldiers. On February 26, we were gathering the corpses all day long. We were loading on trucks with them. There were people I knew among the bodies. My uncle Shirkhan got a wound in his head. Kamil's daughter got frozen to death. Tahir's dead body was burnt. The dead bodies of my schoolmate Taptig's parents were disguising. They did not have heads. We loaded a car with them".
Mehdi Aliyev, the then 4-year-old witness, is the only member of a family who could survive.
"I remember Ismayil granddad was carrying me on his back. We were going and going. Granddad says that when fire exchange started, he put me down and hid me behind a bush. Then my granddad and others were taken prisoners. Therefore, I was left behind the bush. I was shouting: "Grand-dad, grand-dad!" Armenians wanted to shoot my granddad. He said: "That is my grandson's crying. Let me see him and then shoot". An Armenian told: "If he is really your grandson, we will let all of you go. If not - everyone will be shot". I was brought and all the captives were set free. Many people witnessed that. I remember how they gave me some milk there. My granddad did not let me drink.
First, an Armenian had the milk himself, and then he gave it to me. Then my granddad allowed me.
During the Khojaly genocide, I lost my father Firdovsi, mother Heyran, brothers Elchin, Aldaniz and other relatives. I am the only member of our family. I am alone. I live with my aunt Rahila".
Aytakin Salimova, the then 6-year-old witness, finds difficult to be back to that horrible night, when her aunt was killed before her eyes.
"I remember very little. When we crossed the river, I dropped my shoes into the water. My aunt died in the forest. My grandmother and mother were crying. And I remember our hiding behind bushes, too. They called us in Azerbaijani: "We have come to help you, we are Azerbaijanis". We got glad. My aunt Humar went the first. Armenians threw a grenade at her. There were other people died. I do not remember who. I cannot forget my bleeding aunt Humar. Then our sister got lost. We were looking for her. I remember how we were going to Aghdam. A person took me in his arms and brought to his house. My coat got wet. They gave me other clothes in their house".
The Khojaly tragedy will remain in Azerbaijan's history as an example of Armenia's awful brutality because of its inconceivable atrocity and inhuman massacre methods.
This crime was the next expression of the purposeful Armenian policy of genocide and expansion against Azerbaijani people. It's specifically notable that it wasn't the first events when Khojaly became a target for Armenian bullets.
Twenty-two years have passed since the Khojaly tragedy, but the ache of Khojaly as well as tears and bloods of the Khojaly inhabitants would never be forgotten.
This memory will remain in the hearts of present and future generations.