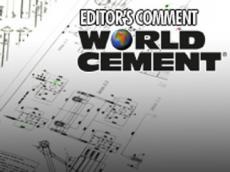 The British website worldcement.com has issued an article on Azerbaijan`s industrial development.
The article says that Azerbaijan's President, Ilham Aliyev, has declared 2014 the 'Year of Industry', with the aim of diversifying and strengthening the country's non-oil sector and developing Azerbaijan's industrial activity ahead of the 2015 – 2020 State Programme.
"With the President's declaration in mind, Akkord Industry Construction Investment Corporation OJSC plans to ramp up its business activity by introducing new management systems and enhancing efficiency at its production facilities. This includes the Gazakh cement plant, which was inaugurated in the summer of 2013 and which has now begun operating. The plant currently produces four cement types under the 'Akkord' brand and aims to have an annual production output of 1 million t.
Around AZN250 million was invested in the plant's construction, providing 700 jobs and contributing to the socio-economic development of western Azerbaijan," the author adds.
The article is available at:  http://www.worldcement.com/news/cement/articles
/Gazakh_Cement_optimises_management_systems_and_efficiency_740.aspx#.Uv218GJ_tA2.

/AzerTAc/