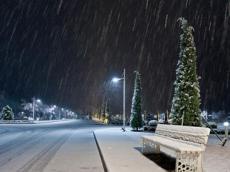 By AzerNews
Azerbaijan is bracing for cold days at the end of this month. Reports say, heavy snow will cover most parts of the country on January 31.
National Hydrometeorology Department of Azerbaijan's Ecology and Natural Resources Ministry said, the temperature in Baku and Absheron peninsula will vary from +2 to 4 °C on January 28-29, while on January 31 it is expected to fall until - 2-4 °C . Also, growing north wind is expected and sometimes the road will be covered with ice.
Moreover, night and morning will be foggy, drizzle. It will rain during the day, the north wind will increase closer to the night in Azerbaijan's capital on January 28.
In the last days of January, the temperature in the country will fall every day and expected temperature will be below normal, which is abnormal in Azerbaijan.
Currently Russia's territory is under the influence of a cold Scandinavian cyclone, according to the Ecology Ministry. It is expected to move toward Azerbaijan's soon. The territory of Turkey is also under the influence of a cold wave. As a result of the interaction of these two cyclones, air temperature will fall in the territory of Azerbaijan.
Some rainfall snow and northerly wind are expected in upland areas of Azerbaijan's regions on January 28. These weather conditions, including low temperature are unfavorable for weather-sensitive people.