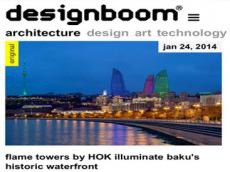 Italian "Designboom" magazine's website has published an article on Baku titled "Flame towers by HOK illuminate Baku's historic waterfront".
The article reads: "Positioned on a hill overlooking the waterfront, 'Baku flame towers' is a mixed-use development which forms a prominent part of the city's expanding skyline. HOK's design brings together three individual flame-shaped towers which reference Baku's history of fire worshiping. All three of the 140 meter structures offer impressive views across the Azerbaijani capital and out over the Caspian Sea. Set in a triangular formation, each edifice contains a specific function. The tallest residential tower sits at the southern edge of the site, accommodating 130 residential units across 39 floors. A hotel is sited on the northern corner of the plot with 250 rooms and 61 serviced apartments set over 33 floors, while to the west, the third tower provides grade a commercial office space.
Anchoring the scheme, a three level retail podium presents leisure and commercial facilities, servicing both residents and visitors. This central atrium includes boutique shops, restaurants and a cinema complex. Openings between the buildings frame views of the city, drawing activity inside the design and creating a fluid boundary between internal and external space.
Our aim was for the bold form of the towers to create a unique focal point on Baku's skyline and we were keen to that dynamic vocabulary into the interior spaces. By creating a fluid boundary between the interior space of the pavilions and the exterior context, the retail and leisure spaces would serve as a natural connection between the towers and their different uses.
Linking the scheme to its surroundings and thus reinforcing the existing urban context was considered critical from the earliest stages of the design processes, commented Barry Hughes of HOK."

/AzerTAC/