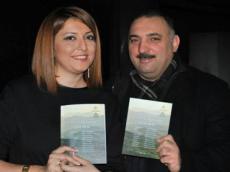 By AzerNews
A book on the history of Karabakh has been just published in Azerbaijan.
The book titled, " Karabakh will not be forgotten" has been written by Azerbaijan's famous journalist Gunay Malikqizi.
The book recounts the memories of 22 boys and girls of different ages. Though, the characters have not resided in the territory - which is under Armenian occupation - and never saw their native land, they know all about it from the stories of their loved ones.
The book is part of a project aimed at preserving and strengthening the spiritual ties among young refugees. The project, led by Rugiya Aslanova, became possible only thanks to the support of Azerbaijan's Educational Youth Organization and Azerbaijan's Youth and Sports Ministry.
At a presentation ceremony, Gunay Malikqizi said, before starting to write the book, she thought deeply if she could accomplish the project, partly because the younger generation had not seen Karabakh with their own eyes.
"Every time I wondered: Will they be able to imagine it? My stress was removed as soon as I found my first character. I did not want to rewrite what is written in the textbooks but something new. Something that could immediately grab others' attention," the author said.
The most important goal of the author was to talk about a native land, which lives in the memories of different people. A survey was conducted among about 50-60 young men, but only 22 stories were included in the book. She chose them because they lived a pain in their heart as a displaced.
Speaking at the presentation ceremony, lawmaker Ganira Pashayeva highly appreciated author's idea and said it is important that the youth know their roots.
"As soon as I picked up the book, I got attracted by it. I felt proud when reading the stories of our younger generation," Pashayeva said.
Moreover, the presentation of the book brought together representatives of the Youth and Sports Ministry, youth organizations, journalists and public figures.
The speakers expressed their gratitude to Gunay and urged her not to stop but to continue to implement other projects on this topic. In conclusion, young artists performed "Garabagh shikastasi" rhythmic mugham.
"The participants believe that one day they will return to their homeland. I don't see myself as the author of the book. The true author is the war. This is the war which put us in trouble, " Gunay said in an interview with reporters.